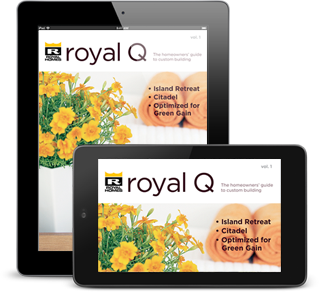 Discover the possibilities for your next custom dream home with this informative and engaging magazine featuring stunning images and creative ideas for building a custom home in the style and design that best suits your lifestyle.
Design Trends – see what's hot and which design elements deliver the biggest return on your investment.
Royal-e – learn about the new ways Royal Homes can construct an energy efficient home that keeps you comfortable while caring for our environment.
Industry Innovations – discover the state-of-the art techniques that Royal Homes uses to improve the custom building experience and has enabled them to become a leader in the industry.
Videos – The App version of the magazine includes videos that take you inside our warehouse and model homes so you can see first-hand what sets Royal Homes apart.