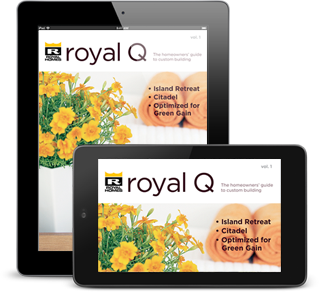 Discover the possibilities for your next custom dream home with this informative and engaging magazine featuring stunning images and creative ideas for building a custom home in the style and design that best suits your lifestyle.
Design Trends – see what's hot and which design elements deliver the biggest return on your investment.
Royal-e – learn about the new ways Royal Homes can construct an energy efficient home that keeps you comfortable while caring for our environment.
Industry Innovations – discover the state-of-the art techniques that Royal Homes uses to improve the custom building experience and has enabled them to become a leader in the industry.
Videos – The App version of the magazine includes videos that take you inside our warehouse and model homes so you can see first-hand what sets Royal Homes apart.
---
Royal-Q Magazine Issues
Royal Q Magazine
Volume 2

In this issue: An Island Retreat, The Royal Q Muskoka, A Revolution in Home Building, Design Centres, Dining at Home, and The Heart of Your Home
Order a Print Copy
General information brochures and the Royal Q magazine are free of charge to residents of Ontario, Canada.
Full brochure packages, which include all Standard Homes shown on this site, are $5.00 CDN each plus a $2.00 CDN shipping and handling fee.
Contact us to order your magazine.